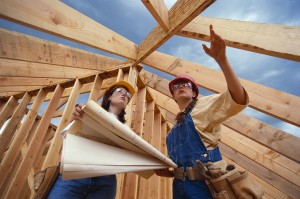 The first place to start when building a home is by viewing some existing homes and looking at the way they are designed. What do you like? What don't you like? Get a feel for what kind of design you need and in particular, what catches your imagination.
By viewing some display homes you can then get a feel for what modern options are available. They are usually found in new estates or in areas of new land releases where there will be construction of new homes by developers. The display home is an example of what can be built in this area and is in place to give prospective buyers an actual feel of what is available.
A display village is like a new car dealership for homes, and has for viewing all the types of houses that can be built for varying land sizes, needs & budgets. This allows you to actually walk through what can be built rather than try to imagine a house from looking at drawings and architectural plans. So if you have vacant land already and want to do some research a display is a good start to have a real feel of what you are going to live in.
What should you look out for with your display home?
Remember a display home is marketing tool by the builder, so when walking through one it may seem like the perfect place for you to live in, but you must ask a few questions and make sure that the home is suited to what you require. Try to keep in mind the following:
The initial price is the basic building cost without the added extras. So always be prepared to pay more than what is originally quoted as curtains, tiles etc is not part of the basic package.
Does the floor plan fit my family requirements?
The house I am picking how it will fit on the land and how it will look?
Bathrooms & toilets are there enough? Is there too many?
Sunlight in the morning or afternoon? Where are the windows? Which way is North / South?
Think about landscaping, driveway, fencing, tiles, kitchen, air conditioning.
Basic floor plans are not expensive but changes to any floor plans incur costs so look at as many floor plans and find the one that is best suited to you.
Flipping the house plan meaning changing the whole arranging by 180 degrees will incur a cost.
When looking at display homes always have additional funds for a rainy day. Nine times out of ten some unexpected further costs pop up, unless you are prepared you could get into a very messy financial situation. Make sure that everything is documented with the builder, make sure that you are happy with the layout and can imagine every room you are walking through. If you get the design right then you will have plenty of equity from day one!
There will be many stories of buildings gone wrong regarding display homes, but when there are thousands of homes built each year, there are always going to be a few disaster stories and this can be due to the client not being on top of things or sheer bad luck. As a consumer you will have a lot of protection from any issues that can arise with constructing your home there are building commissions in each state which will have information to assist you and protect you.
We recommend that you get quotes from 2 – 3 builders before choosing the one that will work for you. Ask them for a list of past customers that you can call and find out how punctual the builder was, if the price changed & how well they cleaned up after the job was done.
Good luck with your dream home!
About the Author
Otto is a Mortgage Broker that has specialised in financing display home loans via the major banks for over 7 years. His company the Home Loan Experts is now one of the top home loan broking firms in Australia.