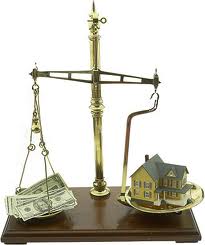 How much equity do you have? Your home could be a hidden gold mine of equity, ready to be turned into cash for you to spend! The amount of equity you have really depends on the the value of your home & how much you owe to the bank. The difference is your equity.
Calculating your equity
Don't worry it is easier than it looks! The formula is:
House value – Loan amount = Equity
So lets say that your home is worth $500,000 and you owe the bank $300,000 then the formula looks like this:
$500,000 – $300,000 = $200,000 in Equity
As a general rule if you draw down on equity such that you owe over 80% of the value of your home, then you may need to pay Lenders Mortgage Insurance (see below). Many home equity loans are restricted to be a maximum of 90% of the property value.
The difficult bit…
The difficult part is working out just how much your house is really worth. Real Estate Agents often give you an overinflated estimate of the value of your home. This is because then it is more likely that you may ask them to list the property for sale through them. There is so much media hype about prices going up and down it it actually quite hard to find out an accurate measure for the value for your home.
If you would like to know more about working out the value of your home for yourself then read this article on how to value a property.
Lenders Mortgage Insurance (LMI)
Lenders Mortgage Insurance is insurance that protects the lender in the event that you can't repay your home loan. Lenders take out this insurance if your equity loan is for more than 80% LTV. The LMI premium charged is paid by you, the borrower, not the lender!
This can end up to be much more expensive than people think! If you are thinking of accessing your equity then use this Lenders Mortgage Insurance calculator to find out what your premium will be. Make sure you shop around! Different banks have different premiums, and they only rarely tell the general public what they are.